Magic 106 wants you to have the BEST SUMMER EVER and it starts by saying one word…
BINGO!
Listen weekdays at 8:10am and 4:10pm to fill it out! Once you have a line, send us a pic and you'll be entered into our weekly Magic summer experience giveaway- including snacks, water park passes for the kiddos and picnic themed wine tour packages for us adults!
We've got your summer covered!
THIS WEEK…
You can win a Magic branded beach blanket AND a family pass to the Cambridge Butterfly Conservatory, a picnic package, courtesy of Farm Boy AND a family 4- pack of tickets to see The Hamilton Tiger Cats take on the Toronto Argonauts for the Labour Day Classic on September 5th at Tim Horton's Field!
Bingo Card

Week 5

(Aug 8th – 12th )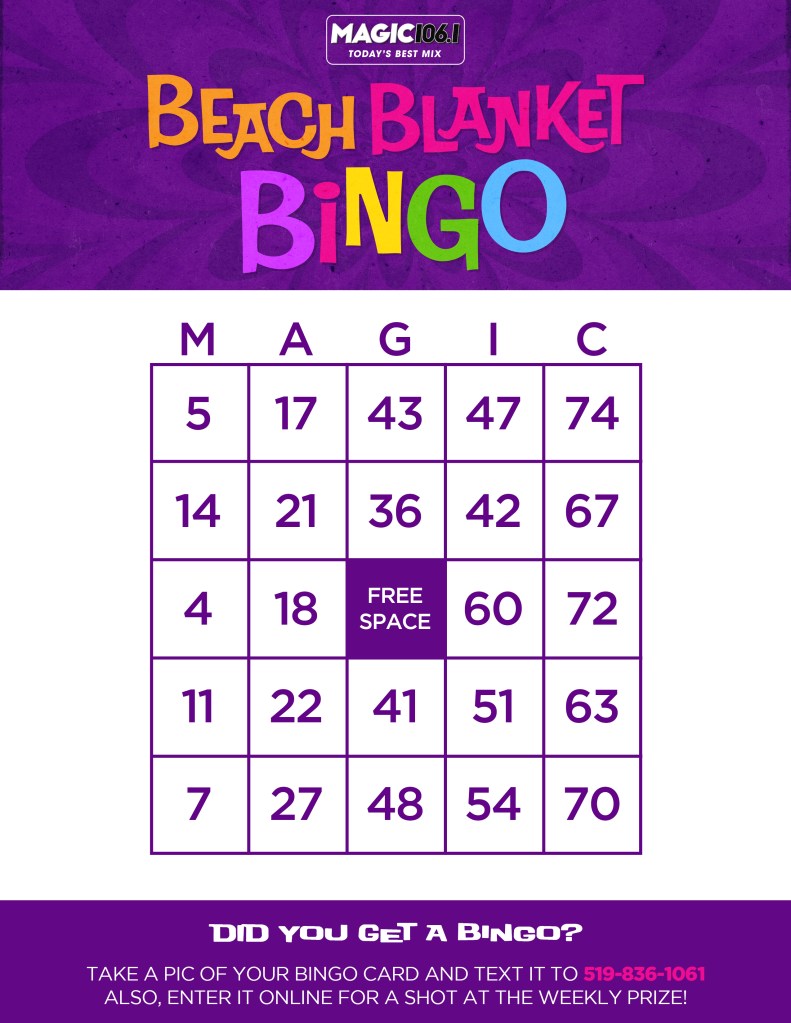 NO PURCHASE NECESSARY. THERE ARE SIX (6) GRAND PRIZES AVAILABLE TO BE WON. MUST BE  LEGAL RESIDENT OF THE PROVINCE OF ONTARIO WHO IS THE AGE OF MAJORITY OR OLDER AT TIME OF ENTRY.  CONTEST RUNS FROM JULY 11  – AUGUST 19. ENTRIES MUST BE RECEIVED BY 11:59PM ET AUGUST 19, 2022. SKILL TESTING QUESTION MUST BE CORRECTLY ANSWERED TO CLAIM PRIZE. ODDS OF BEING SELECTED DEPEND ON NUMBER OF ELIGIBLE CALLS RECEIVED. FOR FULL SET OF RULES VISIT MAGIC106.COM