Magic 106 wants you to have the BEST SUMMER EVER and it starts by saying one word…
BINGO!
Listen weekdays at 8:10am and 4:10pm to fill it out! Once you have a line, send us a pic and you'll be entered into our weekly Magic summer experience giveaway- including snacks, water park passes for the kiddos and picnic themed wine tour packages for us adults!
We've got your summer covered!
THIS WEEK…
You could win a pair of tickets to Drayton Entertainment's GOOD 'OL COUNTRY GOSPEL at Drayton Theatre, IT RUNS IN THE FAMILY at Hamilton Family Theatre AND THE CROONER at the St. Jacobs Schoolhouse Theatre, PLUS a charcuterie picnic dinner from FARM BOY to have before one show, a FARM BOY picnic boxed lunch for two before another show AND a $150 State & Main dinner prior to the third! To top it all off is the Magic sparkling Rose from Cox Creek Cellars  Oh, and let's not forget our purple plush Magic beach blanket for snuggling on these cooler August evenings! 
Bingo Card

Week 6 

(Aug 15th – 19th )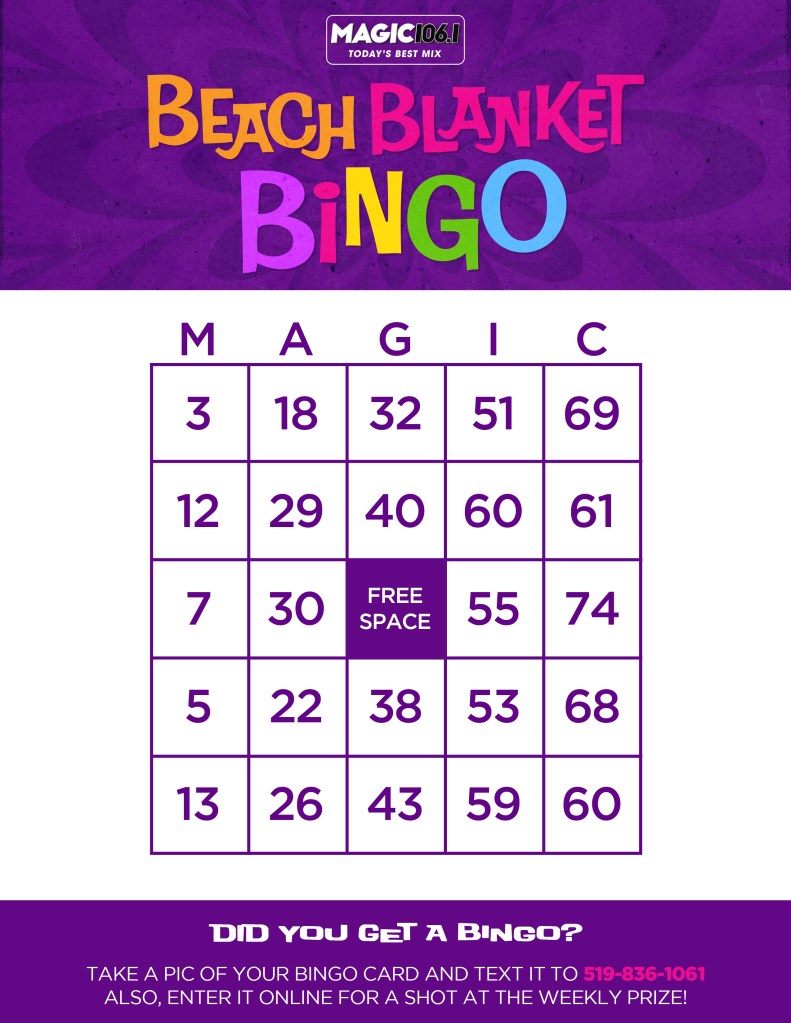 NO PURCHASE NECESSARY. THERE ARE SIX (6) GRAND PRIZES AVAILABLE TO BE WON. MUST BE  LEGAL RESIDENT OF THE PROVINCE OF ONTARIO WHO IS THE AGE OF MAJORITY OR OLDER AT TIME OF ENTRY.  CONTEST RUNS FROM JULY 11  – AUGUST 19. ENTRIES MUST BE RECEIVED BY 11:59PM ET AUGUST 19, 2022. SKILL TESTING QUESTION MUST BE CORRECTLY ANSWERED TO CLAIM PRIZE. ODDS OF BEING SELECTED DEPEND ON NUMBER OF ELIGIBLE CALLS RECEIVED. FOR FULL SET OF RULES VISIT MAGIC106.COM