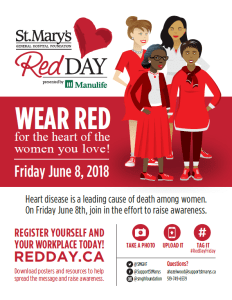 Heart Disease is the leading cause of premature death among Canadian women, claiming the life of 25,000 each year. That's more than the five most prevalent cancers COMBINED.
It could be you, your sister, your mother, your friend.
You can help. St. Mary's RedDAY is an opportunity to come together as a community and raise awareness of this serious health risk and how it can be prevented.
On Friday June 8th, WEAR RED for the hearts of the women you love!
Tag your social media images with #RedDAYFriday – and share a lifestyle modification you could make to improve your heart health!
Visit http://www.redday.ca to:
Register your personal or workplace participation
Download RedDAY celebration materials
Learn more about women & heart disease
Register