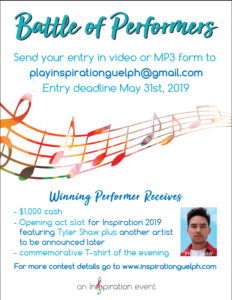 Inspiration announces a "Battle of the Performers" competition to select the opening act for Tyler Shaw at this year's Inspiration concert on November 7 at River Run Centre. The winner of the competition will also earn a $1,000.00 cash prize.
For the competition details, go to http://www.inspirationguelph.com/battle-of-performers Send entries in a video or MP3 format to playinspirationguelph@gmail.com by May 31, 2019.
Inspiration continues to raise funds to help children and youth participate in the arts who without these funds would not otherwise have the financial means to do so. "To say this year's lineup brings the Inspiration concert to a whole new level of performers is an understatement "says Inspiration founder Brenda Gibson. Tyler Shaw is a Canadian singer/songwriter with his single debut "Kiss Goodnight" will be performing alongside
other great well-known artists.
Tickets are on sale now for this one-night only event. http://www.riverrun.ca 519.763.3000
There's also an opportunity for community members to help send those less fortunate to the event – details are at http://www.inspirationguelph.com.
Prepare to be inspired!